Country houses
We pride ourselves in leading the way for building exclusive new houses and apartments in the South UK. With a solid understanding of house building we offer full, turnkey new builds as well as extensions to existing properties.
New country house builders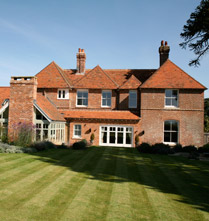 As established bespoke house builders we create stunning new country houses for the discerning client. All our new house builds are constructed to meet all current building regulations and throughout the residential new build sector we offer a service to meet the differing requirements of each client.
We are able to offer advice from the feasibility and design stage of a new build construction through to the hand over to the owner, finished to the high standards that our clients expect. New build construction work includes groundworks and levelling, foundations, construction, roofing, insulation, external insulation such as rendering as well as internal and external painting and decorating.
View more on our painters and decorators
Residential new build contractors
Since 1965 the Bradec Group has been delivering quality construction services to the South UK. Our residential building division specialises in new build homes and apartment blocks (as well as the refurbishment of period and country homes). We are competent in the construction of individual housing units to multiple housing unit developments, working in conjunction with the architects or to design specifications determined by the client.
View more about The Bradec Group history.
Apartment new build construction
View the entire construction of one of our building projects - The Wingrove Court Apartments in Andover, Hampshire here:
Get in touch
If you have a residential new build project that you would like to discuss, please fill in the form below or contact The Bradec Group building company today.